AUTUMN CLASSIC INTERNATIONAL: A FAN RECAP
There aren't too many things on my 'things to see with my own eyes before I die' bucket list - but watching Yuzuru Hanyu compete live was one of them. This, watching Roger Federer play live and watching Hamilton live, have now all been ticked off and there's a surreal sort of emotional hangover and grief to all that, as well as a lot of photos.
In a way, Autumn Classic International - a competition I had gambled on buying tickets for back in April before the list of entries was released - was always going to be the cap on ten months of being abroad. It's a complex blend of emotions for me as I recap it, knowing I will also be truly headed home in a handful - handful - of days.
If you had told me two years ago that sitting in an ice rink for over 14hrs every day for three days would be some of the best times of my life, I would have laughed. Even when I wrote about life lessons learned from figure skating, or going to see Milan Worlds, my first ever live competition, I probably still would have laughed. And honestly, I probably only would have done it in these circumstances - especially to see two time Olympic gold medallist Yuzuru Hanyu compete in person. His performance of Seimei started my entire rabbit-hole journey into becoming a fan of figure skating. For someone whose existence is - at this point - the greatest of his discipline in history, it was gratifying and a little surreal to be able to quietly observe and photograph Yuzuru, especially in the small human moments between performances.
What made me ultimately gamble on attending this event was remembering the atmosphere at Milan Worlds: an entire arena of fans from all different nationalities and backgrounds, passionate and invested about the same sport and its athletes. In Milan, I was only tentatively starting to share more about myself, my travels and other interests but Autumn Classic, several months and countries later, was like reaping all the warmth and friendship from the intervening months of being involved in the fan community.
And it was a bounty: from lovely Japanese aunties I bonded with who bought us Timbits for breakfast, to screaming and running to hug friends arriving from a 7hr drive in the crack of dawn, to seeing all the painstakingly made support banners, to seeing familiar faces from Milan and getting to connect with so many people I both had previously known and didn't know from Twitter, some of whom had travelled all around the world to be here. I said this in Milan but I'll say it again: the diversity in age and nationality of figure skating fans is genuinely nothing like I've ever seen in any other fandom.
What I've learned most from ten months of jumping from country to country is that 'home' is what you make of it; you can have multiple of them and they can be made anywhere, with anyone. At Autumn Classic International - sleep-deprived, high on adrenaline and laughter with a chaotic, dramatic community, gasping together as Yuzuru revealed his costume, cheering for Wakaba, admiring Vanessa James' existence, screaming for Wang/Liu as their scores came up and so many other instances - I thought 'ah, this is home too.'
(And then I promptly left and came down with the flu, like everyone else).
I'm so grateful to have experienced this before going back to Sydney. And like a lot of things on my bucket list - thus proving I don't know how bucket lists work - this will hopefully not be the last time.
Impressions
In a twist of fate, I was able to see quite a few skaters I could not see during Worlds. Following a sport on livestream for months and seeing, hearing and feeling it in three dimensions in front of you is always kind of an out-of-body experience and it never stops being shocking that skaters look exactly like you'd expect them to look. I was close enough to hear snatches of Yuzu and Evgenia talking with my own ears and again, they sound exactly like they do on a screen and in interviews.
The atmosphere of live competition in Milan was incredible, which I attributed to it being the World Championships but the sheer anticipation and buzz in the arena when Yuzuru is present - even at this Challenger B event, the smallest 'category' event of the season - was something comparable. I truly can't imagine what it'd be like in a full-sized stadium with all the top skaters.
While the venue was a little emptier for the other disciplines, the atmosphere was still intimate and excited. The quirk of Challenger events is how approachable most of the skaters are - I walked past so many outside the arena, was able to approach and greet some of my favourite coaches and commentators and take photos with them, it really dragged something that I had previously only watched on screen into the living, breathing realm of real life.
Shoutout to the fans who had brought a bag full of plushies to throw on the ice even to the earlier skaters, the contingent of local schoolchildren who were there to cheer for awhile and the group of Canadian local fans who raised the roof for their countrymen.
I've heard many people remark that Yuzuru Hanyu's speed across the ice doesn't come across on broadcast and that became apparent when I actually didn't have enough time to focus the camera before he had whooshed past us in first practice. More than anything, it was the almost careless, soft effortlessness about the way Yuzuru skates that stood out to me, along with a live demonstration of the 'killer aura' that's often attributed to him.
Though he's usually among the taller male skaters, Yuzuru happened, by chance, to be one of the smallest in all his practice groups and therefore came across as somewhat unassuming (in fact, I'd say Roman has more 'physical' presence on the ice). However, there's this sheer aggression and intensity to the way he skates that radiates off him that you couldn't look away from; it declares 'I'm not here to play around' and while on the ice, there were indeed no distractions, no chitchat with other skaters or any hint of relaxation, especially in competition mode: just glaring focus and a lot of gesturing and talking to himself. I may also have seen god in his first triple axel.
Watching Yuzuru in a practice group was sort of like seeing a lion go about its way in a cage full of foxes: it looks so relaxed but with the promise it could switch to hunting mode at any moment. And then you get the disarming flip side: he smiled and laughed easily with his coaches at the end of practice, bowed with Pooh-san in his arms, touched the ice in thanks as he always does and strode away with his security contingent.

Apparently, my involuntary physical response to seeing Yuzuru perform in actual competition is to lose all strength in my arms, which squares quite well with how my hands went completely numb before his Olympics Short Program. Go figure.
Otoñal felt like the first notes of fall turning into winter. His performance here was a little muted and insular especially at the start, where I suspect he may actually have just left off part of the choreography based on the difference in the practice runthrough. I get the feeling the StSq is completely developed but he hasn't quite figured out the beginning. Structurally, the program is similar to Alina Zagitova's Don Quixote in that it builds to an explosive climax but instead of steps and spins, Yuzuru uses jumps as a time filler (of course…). The StSq in itself is dramatic, emotional and such a highlight. When he wasn't dying on the spins (me, sitting there, jaw open in disbelief as he stumbled on his illusion entry), I love the Johnny Weir reference sit spin.

Yuzuru did seem a little laboured throughout Origin but perhaps the most 'Yuzuru-esque' moment for me the entire competition was seeing him visibly draw his last shreds of energy together and push so he could finish the final swell of the music with something approaching his usual intensity. There's a quietly simmering fire in Origin that will explode hopefully at just the right time and will be an inferno when it does (catch me sacrificing my first born child to Shae-Lynn Bourne explaining her concept of Origin; the god metaphors are apt). Yuzu's programs always become more complex and complete over the season, so I'm excited to see how much he improves on them between now and Helsinki.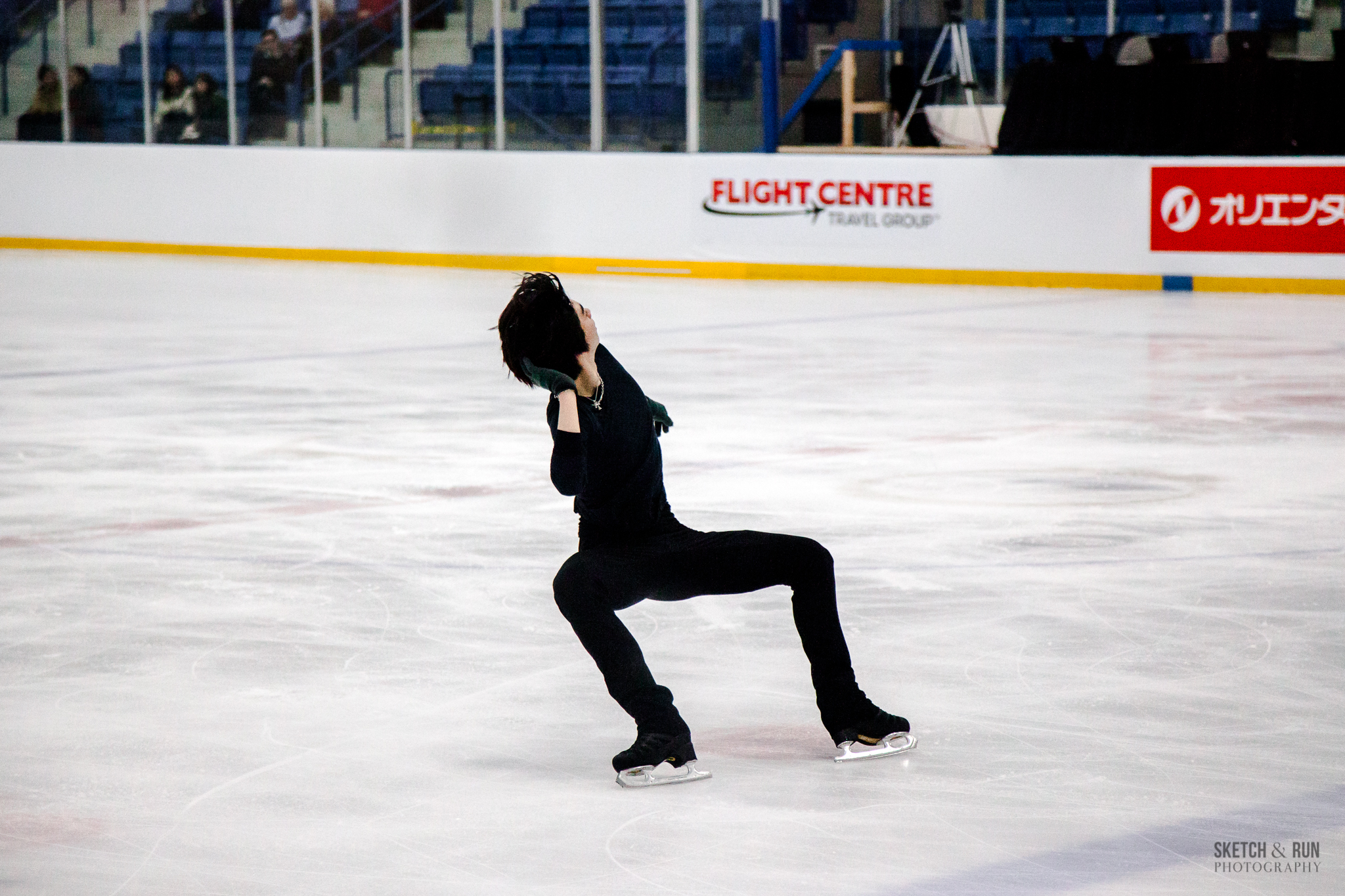 I was intrigued about seeing Junhwan Cha in person. He's a skater I had accidentally seen way back when he was a tiny, sassy eight year old on Kim Yuna's Kiss & Cry show and is now definitely not a tiny eight year old. While there's no way to make Cinderella clock choreography not goofy, the cut for his short program was much more sophisticated than I could have expected, for, well, a Cinderella program. His disco Romeo & Juliet was also so weird that I couldn't help but love it and I wish someone had recorded our faces during the first practice on Thursday - I think the final cut from JULIETTTTT back into disco breakdown broke me and I couldn't stop giggling. It's still very difficult for me to see the under-rotations in real time so I was quite convinced he had won the competition after his free skate, forgetting Yuzuru had a 7pt lead from the SP. He has a much softer presence and charisma on the ice, but it's a style that endears him to viewers and I like his expression on the ice.
I was excited to see Jason Brown's beautiful skating and his surprising SP to Love is a Bitch that garnered quite a few wolf whistles from the crowd at the start. He really did channel the sexy vibe way better than someone who normally evokes a gigantic labrador puppy could be reasonably expected to. His FS unfortunately doesn't do much for me at this point and it was hard to see him struggle with the jumps, but it's early season and I'm just delighted his quad salchow seems to be stable enough to even put in the planned program.
Harry Mattick, Roman Sadovsky and Kevin Aymoz were the three biggest surprises of the weekend. Roman really impressed me with his flow and physical presence on the ice - he's quite a tall boy and takes up a lot of space but his jumps were beautiful when he was on: an actually good leg wrap and tight air position, height and distance, it's a shame he messed them up in the program itself. Kevin Aymoz was just on fire the entire competition - so expressive and a consummate performer, especially his cantilever and reverse hydroblade. I can't believe I haven't noticed him on the circuit until now, but I'm certainly keeping an eye out for him from now on.
Harry Mattick I've adored ever since his iconic Pumpkin King program last year and was so delighted to see live, from the moment he took to practice ice in his Batman practice gear. In a world that can be quite serious, I support anyone who just throws his hands up in the air and commits to a program with humour and showmanship. The literal elevator music for his SP…really has to go but also, I can't believe two skaters had identical SPs, down to the music cut.
We had the privilege of sitting right by the railing of the skater's entrance for the Ladies FS and were rewarded with small details like Evgenia smirking and waving sassily at us when we 'ooohhed' appreciatively at her FS dress, seeing Wakaba doing deep breathing exercises with her coach before going on stage, witnessing skaters' pre-competition rituals, seeing skaters pick up our plushies and smile a little to themselves when hearing our cheering.
Evgenia Medvedeva and her pre-competition death glare could have given Yuzuru's a bit of a run for its money. I've never been one to emotionally connect with Zhenya's skating - the exception being her Kukushka EX last year - and I'm still not quite there yet, but there's a lightness and happiness to her - especially in practice - that's palpable. Orange Coloured Sky is actually really catchy as a piece so I can see myself liking the finished, refined performance once she masters the jump timing a bit more. The new maturity of her programs is promising.
Wakaba Higuchi's speed on the ice is the first thing I noticed in her first practice because it's strikingly a cut above the other ladies, even the top ones. Energia was much more striking in person - on broadcast, she does look a little slow and disengaged during the steps and is a little overwhelmed by the music's pace, but I was buying it when watching it live very much, and it's the sort of offbeat program that I think only Wakaba has a chance of pulling off. I was a little slower to warm to her new free program but I think the intensity could serve her well.
Bradie Tennell surprised me with how solid her jumps looked - she definitely brings a physical presence to the ice just with her height and I like the darker, more mature tone of her programs, especially her SP and she was visibly trying to channel the aggression the music demanded. She has the long, thin limbs to create beautiful lines, but seemed stiff and struggled to extend fully into her positions. Still, her jumps were impressive.
"It's so good to hear another Aussie accent!" Kailani Crane told me when I said hi to her outside the arena - she did so well and I loved her energy and expressiveness on ice - rise Australian figure skating! Mae Berenice Meite had the skate of her life and her emotion at the end of her FS was so incredible.
James/Cipres were incredibly striking - I was absolutely mesmerised (as was most of the arena) by Vanessa and how beautiful she was. Pairs skating is also absolutely terrifying to witness in person, but oh boy, the lifts and throw jumps were some of my favourite things to watch. Ice dance was also so much better live than on broadcast.
Shiyue Wang/Xinyu Liu had a great set of skates and were so sweet when I asked them to leave a video message for my friend in Australia, they were incredible sweethearts and Shiyue is so pretty.

Weaver/Poje had the most haunting, beautiful free skate dedicated to the late Denis Ten, and set to SOS D'un Terrien Détresse, which happens to be one of my favourite songs ever. I was teary-eyed and goosebump-covered by the end, even just watching it in practice. It's so ethereal and there's so much emotion in their movements, it's definitely one of my favourite programs of the season already.
Practical, nitty gritty tips
Figure skating photography: If you're going to a live FS event that allows photos and would like photos, please do try and either borrow, buy or steal a DSLR, mirrorless camera or point and shoot, which will always be better than just a phone. Prioritise lens range in sports photography, specifically you want something that can zoom from 200-300mm. The arena tends to be fairly well lit (but that being said, I was still shooting with 1500-2000ISO). These lens will often be much cheaper on non-full frame DSLRs.


What to wear in the rink: Sitting there for all events does make you cold. Bringing a blanket to put over your legs is highly recommended. Invest in good socks and gloves for your feet and hands especially if you have poor circulation there. Make sure you get up and move around periodically. Hot soup from the Fortino's across the road really saved our lives.


Best seats: I lucked out in getting to sit in the first row on the long side opposite the judges and then the other two days, I was sitting directly above the skaters' entrance and Kiss & Cry. Sitting at the skaters' entrance gives you the chance to see them up close in the 'quiet' moments between programs, sometimes to hear the skaters and coaches talking with your own ears, which were the 'rare' moments I enjoyed a lot as a photographer and fan. You can also see and hear the coaches' calling out encouragement, slapping the boards and cheering during programs.

But for enjoyment of the program itself, the first row opposite judges is really quite a good seat. If you don't intend to fight the zombie hoard for the seats next to the Kiss & Cry, 4 - 6AM is a reasonable time to show up for 7AM practices (with Yuzuru in them) if you wanted front row seats on the side opposite the judges. I knew people who showed up way later who still got fairly decent seats (3-5th rows on the far side closer to the doors). That being said, ACI seems to be the few competitions without assigned seating so hopefully no one has to line up like this again.